Like us, Share us with others
Rose Images with Love Messages – Update Rose Day Status on Whatsapp
Here is a collection of rose day images with quotes and wishes to share with your friends. Rose day marks the beginning of the most loved week of the year. Before the valentine day 2023 approaches, the young world celebrates a week full of beautiful and cute days. These seven days promise moments of fun, laughter, commitments, sweetness, and overloaded cuteness. 7th February is the rose day and you should not miss wishing happy rose day 2023 to your special ones or partners or friends.
Click here to know propose day date
Rose day is celebrated every year on the 7th of February and is also the first day of the valentine week 2023. Though the day is mostly celebrated by lovers and couples, friends also exchange happy rose day images and pictures. Red roses are exchanged to express romantic feelings of love and affection. The flower symbolizes love, beauty, and affection for the person whom you are gifting. Roses are always considered the best flowers to express romantic inclinations. Gifting a bunch of red roses is always been a practice among young lovers.
You would love these too:
Happy Rose Day Pictures GIF to Celebrate Rose Day 2023
Picture of a red rose day image 2023 says a lot. The modern hectic life leaves little space for expressing your love to your dear ones. Sending a simple rose with few lines can speak of your affections to the person. Whether you are a lover or a spouse; send happy rose day messages with beautiful lines expressing your feelings. Here are some awesome rose day quotes to show on your whatsapp status.
A bunch of roses I give you today

to tell you that I may or may not say

but I always value your friendship a lot.
May our friendship continue till the roses are known for love

and the fragrance is known for spreading pleasure
The rose I gift you may be red or pink

but the colour of our friendship will always be the same
Happy rose day 2023 to my dearest friend

May this rose day brings lots of beauty and happiness

more than this rose day image can speak of
There is no flower as beautiful as your friendship

But I cannot miss to say happy rose day 2023 to you
Rose is the only flower bloomed to express love

you are the only person to make me fall in love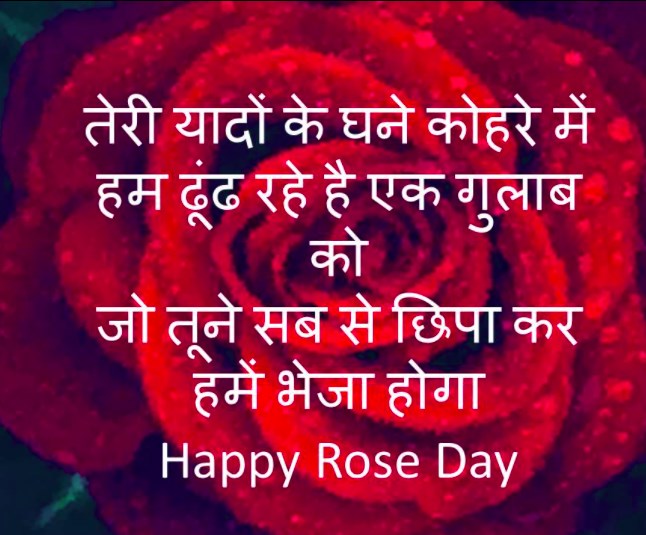 These roses will fade away with time

but you are the real rose in my life

full of love, beauty, and care.
Be with me always in all the times

like the fragrance that never leaves the rose
Sending you this happy rose day pic

just to tell you how much I think of you today
7 Feb Happy Rose Day Whatsapp Status for Her
Whatsapp status is a great way to tell others what you are thinking. Share this lovely rose day photos with lovely lines on your whatsapp status. You can share pink rose, red rose, white rose, yellow rose, and blue rose to express different feelings.
Let your smile be always like this rose

cute, happy, and colourful. Wishing you a lovely rose day.
May you always be happy like this rose

the fragrance may fade away but not my love
No flower on this earth can ever tell you how much I adore you

this rose is just a reminder of my boundless love for you
Rose Day Shayari in Hindi with Images to Share with your Friends
We all love shayari and it is a great way to express feelings. Here we share some beautiful rose day shayari in Hindi you can share with your friends. You can also send these lovely rose day images with shayari to your spouse.
चेहरा तेरा गुलाब लगता है
एक हंसी सा ख्वाब लगता है
होंगे दीवाने तेरे हज़ारों
मेरा दीवानापन लाखों में न मिलेगा
तेरा प्यार जैसे चमन में खिला गुलाब
हज़ारों फूलों में सबसे लाजवाब
आपके होठों पर हमेशा मुस्कराहट के गुलाब खिले
जिन्हे आप चाहो दिल से, खुदा करे वो शख्स भी आपको चाहे
बिखरने पर ज्यादा खुशबु दे जाता है गुलाब
तेरा साथ भी कुछ ऐसा है की छूट गया
तो और करीब हो जायेगा तू
चुपके से भेजा है तुझे ये गुलाब
इंकार कर या इकरार की मुहर लगा
खुसबू इसकी हमेशा बरकरार रहेगी तेरे दिल में
खुशबु और रंग के बिना इस गुलाब की खूबसूरती कहाँ होगी
तेरी यादों के बिना इस ज़िन्दगी में जीने की आरज़ू भी न होगी
हाज़िर है तू इस तरह मेरी ज़िन्दगी में
जैसे खुसबू गुलाबों में मिलती है
तेरी यादों के गुलाबों में उलझी है ज़िन्दगी
तू जब तक लौट के न आये
तेरा इंतज़ार ही है मेरी बंदगी
Rose Colour Guide: Rose Colour Meanings
Do you know the meaning of the different colours of the rose? It is important to know the meaning of the rose colours. You need to be careful while gifting roses to someone. Different coloured roses send out different messages to the receiver. You would love to know that colours of rose meaning different expressions can be important in forming relations. Here we have given how rose colour meanings differ. Hence, make sure to give the right colour to the right person on this rose day.
Red Rose – Gifting a red rose to someone is the best way to express your romantic feelings. If you are proposing someone or in love with someone, send a red rose image or a red rose itself.
White Rose – White rose represents innocence, purity, and new beginnings. A bunch of white roses is the best to gift on someone's wedding.
Yellow Rose – If you are a good friend to someone without any romantic feelings, yellow roses are the best. They simply represent friendship.
Pink Rose – Pink roses means appreciation, grace, and elegance. Sending pink colour roses to your wife or sweetheart will tell her how you praise her.
Blue Rose – Blue roses are something not possible. Hence, they represent something that is unattainable. If you are a secret admirer, here is the right coloured rose.
Orange Rose – Orange roses signify enthusiasm and energy. You can always gift orange roses to your friend to wish them for a particular reason.
Purple Rose – Purple roses means royalty and perfect for someone who is your royal friend or has royal habits and attitudes.
Send these rose images with love messages to your friends. Let them know you think about them on every special day. Not expressing your love to someone will never let the person know how much you care. If you are wanting to show that you are deeply in love with someone, these rose day 2023 images with shayari are the best for you.
Like us, Share us with others